19-03-2023
In Pakistan and even all over the world the Gold is considered one of the best investments for your future. The Gold markets change almost every day. There is no change is Pakistan Gold rates on Fridays and Sunday as the local Saraf markets are off on Friday and on Sunday the international Gold markets are off. There is a craze in Pakistani women for Gold jewelry and Gold is considered as good as cash. The Pakistani weddings are incomplete and even don't even start without Gold jewelry for bride. So the Gold prices have a huge importance in every Pakistani's life. The Gold Rate in Pakistan is always fluctuating and it's not fixed according to the international Gold rates. In Pakistan the gold is imported from Gulf countries most of the time and the Gold price depends on the current Dollar rate. There are some categories according to its grade and quality. There are 3 major categories in Pakistan 21K, 22K and 24 carat gold is sold and it is measured as per tola and per grams weight. The jewelers charge extra on making jewelry according to the design of the product.
Gold rate in Pakistan today per tola is Rs. 156,150 and Today Gold rate in Pakistan per 10 grams is 133,873 PKR. There is not much of a difference in Gold prices all over Pakistan cities. The local city Saraf market decides the current gold rate for the city. We have shared Gold Rates for all major cities of Pakistan, including Lahore, Karachi, Peshawar and Islamabad are given below.
| Location | 24k Per Tola | 24k 10g | 22k 10g |
| --- | --- | --- | --- |
| Quetta | 156,150 | 133,873 | 122,717 |
| Peshawar | 156,150 | 133,873 | 122,717 |
| Rawalpindi | 156,150 | 133,873 | 122,717 |
| Islamabad | 156,150 | 133,873 | 122,717 |
| Lahore | 156,150 | 133,873 | 122,717 |
| Karachi | 156,150 | 133,873 | 122,717 |
| Pakistan | 156,150 | 133,873 | 122,717 |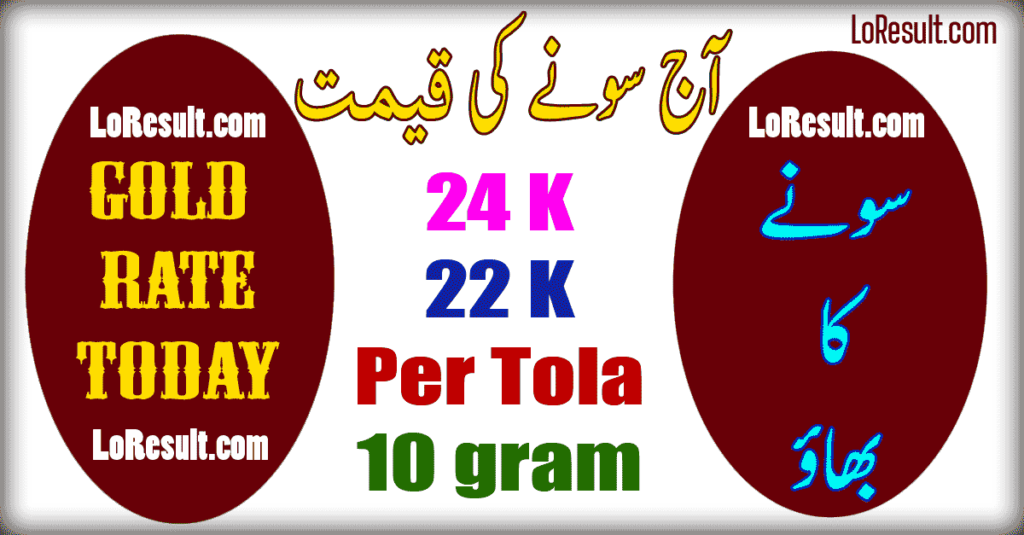 The Gold Rate in Pakistan 2023
Gold is one of the most highly-desired and useful metals in the world. Not only it can be beautifully shaped and carve, the precious yellow metal conducts electricity and does not discolor. Gold is always considered as an expensive thing in Pakistan. It is normal that every family in Pakistan have some gold in different weights. At first, gold discovered in Millennium B.C give on to more mining. After that further discover the mining in Bulgaria. Everyone wants to have gold in big quantity because it is a very costly and indefectible thing.
Investment in Pakistan is very difficult because of under developed country. When a person wants to invest, his / her first priority shall be invested in gold. Gold is increasing day by day in Pakistan and have much demand in Pakistan. All the metals are precious and valuable but gold is considering the top metal in Pakistan. Gold is Available in bars and coins and not only in jewelry. Gold is not only use for jewelry but it also using for making valuable electronic devices and some medicines also. Gold is a liquid item and it could be easily converted into cash rapidly. Mostly rich people In Pakistan have large quantity of gold and it is a symbol of wealthy family. The most famous countries which has gold commodities including United States, Canada, Russia, Peru, South Africa, China and Australia from where gold is acquired and circulated in other markets.
Gold Rates Pakistan Today
London Bullion Market is the authority where gold prices determined. The London bullion market LBMA is a wholesale over-the-counter market for the trading of gold and silver. There are many aspects which play an important role for the pricing of gold. In Pakistan, gold rates are also depending upon on Exchange rates. As we know current gold rates in Pakistan is on high prices because the value of rupee has decreased. When value of rupee and exchange rate will stable, then automatically gold rates in Pakistan will decrease.
Frequently Asked Questions About Gold
What is the price of 1 tola gold in Pakistan today?
Today , the Gold price for 1 tola of 24-karat gold is PKR 156,150
What is the price of 24 carat gold in Pakistan?
The price of 24k gold is Rs. 156,150. See more info about Gold Rates in Pakistan
How many grams are there in 1 Tola?
11.6638038 grams or in round figure 11.664 g
What is tola? Why gold is measured in tola?
The word Tola is derived from the Sanskrit word 'Tol' meaning weight or weighing. Tola or Tolah was used by subcontinent people to measure gold. The tola is equal to 180 troy grains (11.6638038 grams) or 3/8 troy ounce.
In the ruling age of British India grains were measured by tola as unit of weight. One tola was equal to 175.90 troy grains (0.97722222 British tolas, or 11.33980925 grams). 1 tola was equal to 100 Ratti seeds in those days.
What is the price of 1 tola of 24-karat and 22-karat gold?
Today gold rates. As of 19 March 2023, the Gold price for one tola of 24-karat gold is Rs 156,150 and for one tola of 22-karat gold is Rupees 133,873.
Which countries used tola as a denomination for gold?
Pakistan, Bangladesh, India, Nepal and Singapore still used tola to measure gold.
1 Tola is equivalent to how many carat?
1 Tola equals 56.842 carats or Karats.
How much is 1 kg of gold in Tola?
1 kilogram of gold is equivalent to 85.735 tola.
How much is 100g in Tola?
There are 8.5763293310463 tola in 100 grams.
How much is 5 Tola in grams?
5 tola are equal to 58.3 grams.
Prize Bonds List of All Denomination