All classes past papers links are available on this page now. In all over the Pakistan, all classes including Primary, Middle, Matric, FA, FSC, I.COM, ICS, Inter Part I II past papers record have now been uploaded. If you want to get old papers, click on your desire any BISE and get your previous papers.
Students in all sectors of Education in Pakistan like schools, colleges, universities everyone can now download their old papers according to class and need. There are a lot of students which scare about their upcoming board exams. Now don't need to be frightened. You have to add old exams papers in your preparation. These exams papers will guide you a complete form of exams papers. By using these previous exams papers, you can prepare at least 50% of exams portion. Solved past papers can help you to determine how to present your paper.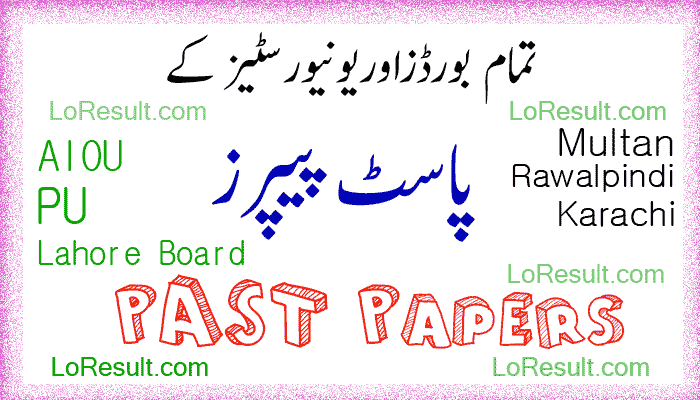 Past papers can also very help full for middle and matric students because they even don't know how to explain and present paper and they didn't aware regarding paper pattern.
All BISE Punjab Boards Past Papers
ALL BISE KPK Boards Past Papers
ALL BISE Sindh Boards Past Papers
Allama Iqbal Open University Past Papers
BISE Quetta Board Past Papers
Famous Universities Past Papers
Primary and Middle Board Past Papers
Advantages to reviewing Past exams papers
There are a lot of advantages of past papers in student life. They help student to get good marks not only in board exams, but also helpful for internal examination. As we know that class 9th and 10th level study is not easy for student. The study at this level carries a lot of knowledge for student, so each and every thing is important to get absorbed by student mind. So I suggest past papers will definitely help student to increase their knowledge capacity.
Online Past papers download
This website is only established for the ease of student. The Loresult.com website page carries a great material for the student of all levels (Primary level, Middle level, Intermediate level, Bachelor level and University level). The previous papers of all boards are available in our website page. This webpage is different from all other webpages because you can find all kind of previous five year old papers on a single link. Hopefully you will get good marks in examination with the help of these previous past papers. Now it is easy to download old exams papers of any Primary, Middle, Matric, Inter board and universities in Pakistan.
From all over the Pakistan and all provinces in Pakistan including Punjab boards, Sindh Boards, Balochistan Board, KPK Board, Federal Board and all government and private sector universities latest and old past papers are now live here. By just one click you are able to get your prefer previous papers.
How important are past papers?
Past Papers are important because it helps the students to assess complete format and pattern of all classes including Primary, Middle, Matric, Intermediate, Bachelor and Masters. Students can manage their time and it leads to get good marks.
How do past papers help?
Previous past papers, old past papers, last year past papers, latest past papers are very helpful for all type of students. It helps the students to get some guidelines and complete pattern specially for newly admitted students.
When should you start past papers?
Past papers give a way to find complete paper pattern. Past papers should start before preparation because in the past papers, you have most important questions and answers. You must follow all year previous papers and then prepare yourself according to your plan.
What is the difference between a specimen paper and a past paper?
There is a main difference between model paper and past paper is that the model papers are just templates and not an authentic question papers but past papers and release from the board authority which include all important questions and MCQs. So we should follow both Specimen papers and Old papers because both are important.