Baby girls are considered as blessing of Allah Almighty in Islam. There are many duties of parents in Islam and there is one big duty is to give a good, coolest, cute and good name to you baby girls. We are going to solve this problem with our newborn baby girl coolest names list for you. You can either choose a unique name from the girl baby name list or just type and search for your name meaning in Urdu.
Muslim Baby Girl Names With Meaning By Alphabets
This page contains all the cool, beautiful and aesthetic name with meanings in Urdu. The list contains all the links starting from A-Z alphabets. The names for baby girl are listed alphabetically here in this website.
Baby Girl Names with Urdu & English meanings
Full details of all the baby girl names are given. You will find the lucky number, lucky gemstone, lucky day and many more details. We have Arabic, Hindi, Pakistani, Urdu names list with all possible details. We provide you the most common name in the world, cute baby boy names, boy names uncommon, popular girl names and pretty unique girl names for free.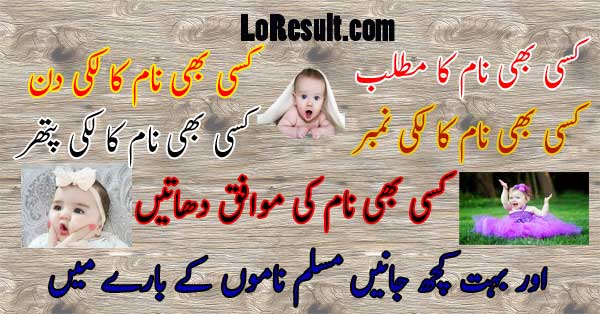 If you are a believer of numerology than this is your place to get your lucky number, lucky stone and many more. We have all possible important information of any name. Here on this page we have arranged all the baby girl names in alphabetic order. Click the alphabet and get all names starting with the alphabet on the next page.
Frequently Asked Questions:
Q. What is a good Muslim name for a girl?
There are thousands of good Muslim names for girls with meaning available here on this website. These are the most common good names for baby girls Hareem, Zainab, Horain, Hafsa, Hania etc.
Q. What is the most beautiful Arabic name?
We have many most beautiful Arabic names with meaning, luck number, lucky stone etc. Most beautiful Arabic names are Sadiya, Shahnaz, Suhana, Tanaz, Tahira etc.
Q. What is the best Arabic name?
The best Arabic name for a baby girl can b from Zainab, Hareem, Horain, Fatima, Zahra, Bisma, Asma, Ayesha etc.
Q. What's the rarest boy name?
You can find out all rarest boy name here for free. Here are some of the most rarest boy names Fuyum-فُیوم, Hawi-حاوی, Rahnaz-رہناز, Zulfi, Maleeq, Parihan, Ummayyah, Samaal, Haafi etc.
Q. What are the most beautiful names?
Here are the most beautiful names for baby girls Fatima فاطمہ, Minahil مناہل, Meerab میرب, Bushra بشریٰ, Ayat آیت, Nimra نمرہ, Saira سائرہ, Tanveer تنویر, Maha ماہا, Hadia ہادیہ, Sidra سدرہ, Alina علینہ, Rameen رامین, Humna حمنہ, Musfira مصفرہ, Lubna لبنیٰ, Mishal مشعل, Zahra ظہرہ, Khadija خدیجہ, Sadaf سدف etc.