Find Pincode and Post Office Search Tool
Here is a tool for pin code search and to get pin code of my location with a pin code list. You can search 6 digit pin code of your location or enter pin code number to find out all information about all post offices in India. All postal code and zip codes list of all India.
Find 6 Digit Pin Code of My Location
First 2 Digits of PIN Code India Postal Circle
List of all India states with the starting digits of Pin codes. We have arrang all the post office details as following. Click on the desired link and you will find the districts list and then the list of all the posts offices names in the end.
What is a Pin Code in India?
PIN Code is abbreviation of Postal Index Number. The Pincode used to number the post offices or post code system used by India Post for the post office numberings. Every PIN code is comprised of 6 digits. The 1st digit tells about the region, 2nd digit is for the sub-region, 3rd is for the sorting district and last three numbers are specific for a post office code. There are nine PIN zones in India.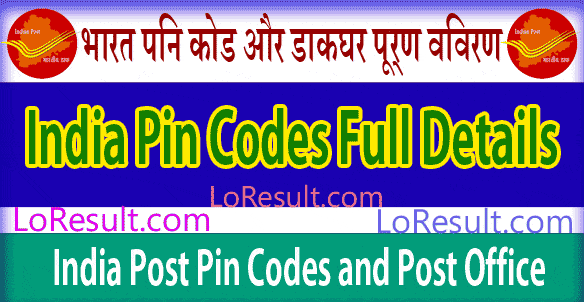 पिन कोड पोस्टल इंडेक्स नंबर का संक्षिप्त रूप है। पोस्ट ऑफिस नंबरिंग के लिए इंडिया पोस्ट द्वारा इस्तेमाल किए जाने वाले पोस्ट ऑफिस या पोस्ट कोड सिस्टम के लिए पिनकोड का इस्तेमाल किया जाता है। प्रत्येक पिन कोड 6 अंकों का होता है। पहला अंक क्षेत्र के बारे में बताता है, दूसरा अंक उप-क्षेत्र के लिए है, तीसरा अंक सॉर्टिंग जिले के लिए है और अंतिम तीन नंबर पोस्ट ऑफिस कोड के लिए विशिष्ट हैं। भारत में नौ पिन जोन हैं।